Written by Mike Fields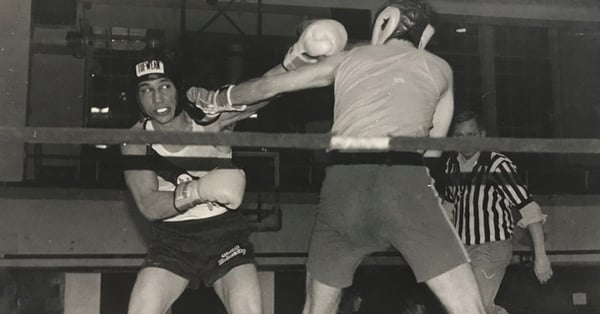 Ernest Hemingway's famous novel The Sun Also Rises opens with the line, "Robert Cohn was once middleweight boxing champion of Princeton." Likewise, ViaTech's tale begins with a boxer. The first line of our 25-year story might be, "Michael Bertuch was once lightweight boxing champion at Lehigh University."
Although not quite as renowned as Hemingway's work, ViaTech's story is full of as many exciting twists and turns. That illustrious fighter – ViaTech's founder – went on to attend graduate school at Columbia University, where he struck an interesting deal with his professor. Instead of attending class, he would draft a business plan. This exercise not only earned him a good mark, but his plan came to fruition in 1995.
So, what was the business landscape like in 1995? Newly established Amazon and Netscape introduced new ways to purchase books and surf the net. Blockbuster Video was an important source of in-home entertainment. Google and Netflix did not yet exist.
Today, Netscape is gone. And Blockbuster has just one remaining store in Bend, Oregon.
Why were companies like Amazon and ViaTech successful when many others were not? I will leave that question to the erudite experts. But I speculate that leadership has something to do with it.
According to Bleacher Report, great boxers share characteristics such as quickness, conditioning, discipline and guts. Michael instilled all these traits in the business, which has proven its resilience time and time again.
In 25 years, our boxing ring has seen many changes. It is no longer square; in fact, it does not have boundaries at all. ViaTech is constantly innovating to meet the evolving needs of its clients. In the past five years, we have broadened our offerings to include award-winning SaaS platforms like Active Reader and Symphio. Yet, our original mission – to help organizations manage and deliver content more efficiently – remains the same.
Most recently, ViaTech squared up against COVID-19. On some days, we feel like philanthropists, aiding our severely impacted stakeholders. And other days, we rely on the graciousness of others. It is an interesting paradox. In both instances, we celebrate community.
I am most thankful to our team members – past and present – for their contributions. The average tenure of our staff is 10 years, and over 25% of our staff have been with us for over 15 years. We are not perfect, but we are passionate about our customers.
In fact, many of our earliest customers still do business with us. Last month, a long-time customer wrote us, "How can I ever thank you for all you did?"
As the new year kicks off, ViaTech's commitment to excellence continues. We will rely on our 25 years of expertise to create robust solutions for our customers, while innovating with the deftness of a prize fighter.
Looking to the future.